Pickled Fishing Bait
Guide's Choice® pickled products are whole and sections of fish that are pickled in proven fish catching sauces with the added advantage of extended shelf life for freshness. All fish flavors are professionally packed and labeled for both fish and fishermen that both just can't resist.
Pickled Sturgeon Candy has proven to be the best selling pickled bait product sold any where in the Pacific Northwest. Sturgeon love it and that is why we named it what we did. Available as Herring, Sand Shrimp, Shad, Smelt, and Squid.
In addition to sturgeon, Sturgeon Candy has become a popular bait for catfish and bottom fish throughout the states.


Feature Foods® Rollmop Herring has made quite an appearance in fishing circles and sturgeon tournaments. For some reason sturgeon don't resist. We really don't know why?
A lot of northwest sturgeon fishermen say it's the best bait anywhere.
Our specially cured sturgeon bait is sealed in clear jars.
So if you want a fish catching edge give Rollmop a try !
You'll be glad you did !
Guide's Choice®® catfish bait is one of the most sought after bait's anywhere catfish are fished. Made from whole and sections of different types of fish, cured, pickled, and brined in special sauces catfish and bottom fish love this bait.
Our Catfish Treats are like candy to fish.
You can't keep the catfish and bottom fish from attacking this product.
Custom packaged in glass jars pickled in a secret sauce with all the natural bait chunks that catfish go crazy over.
They catch catfish so well that this product is becoming very popular in California along with the midwest and the south where catfish are king.
Our Catfish Treats are made from Herring, Mackerel, Prawn, Sardine, Shad,
Smelt, and Squid. Three exceptional choices of cures that include "Brine", "Brine With Garlic",
or "Pickled With Garlic", sealed in a clear jars.
It's time to catch some catfish !
| | | |
| --- | --- | --- |
| Product | Packaged | Code |
| Herring | 16 oz. Jar | 619B |
| Sand Shrimp | 9 oz. Jar | 619C |
| Shad | 9 oz. Jar | 619D |
| Smelt | 16 oz. Jar | 619E |
| Squid | 9 oz. Jar | 619F |
| Rollmop Herring | 12 oz. Jar | 610 |
| Catfish Treats | 9 oz. Jar | 606 |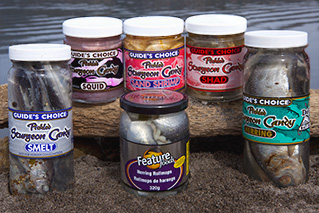 ! Buy Our Fishing Bait Here – Now !
Purchase Our Pickled Bait Products
Order Here Online
Easy Ordering
Factory Direct
Fast Shipping
Click On The Buttons Below